By Keith Walther | Rose Law Group Reporter
Looking for something other than turkey over Thanksgiving? A heavy helping of dark comedy, mixed with some thrilling suspense and topped with a hint of delectable horror and macabre, "The Menu" might be just the movie to satisfy the palate.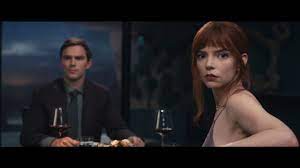 Tyler (Nicholas Hoult) is an obsessed foodie who idolizes Chef Slowik (Ralph Fiennes), a world-renowned chef whose exclusive restaurant is situated on a remote island. When Tyler scores an invitation to the restaurant, he brings Margot (Anya Taylor-Joy) as his plus one. The only way to access the restaurant is by boat, which leaves immediately after depositing the lucky guests.
As all the guests get situated, Margot begins noticing some troubling signs such as the inability to leave the island and the complete lack of cell service. The entire staff revers their reclusive chef as a god, willing to do his bidding regardless of what it may entail, further putting Margot on edge. The chef meticulously and methodically presents each course, eloquently relaying a story about each one that provides the guests with little hints as to the overarching theme of the meal. The guests are in for a shocking surprise when they learn the chef's true intentions for the evening.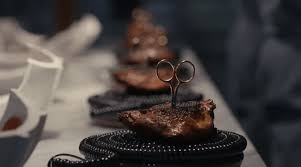 Director Mark Mylod crafts a unique film experience that feels like a stage production with each course of the meal representing a new act. The sarcasm and dark humor he infuses throughout the film is deliciously hilarious in a twisted kind of way that puts the film in the company of the likes of "Fargo" and "American Psycho." Mylod has primarily only directed in television, having won two Emmy's for his work on HBO's "Succession," but hopefully this opens the door for him to helm future films.
Lead actress Anya Taylor-Joy has been very busy since her breakout role in 2020's "The Queen's Gambit," with "The Menu" being her fourth film since her Emmy nominated performance. She exquisitely portrays her character imbuing common sense and awareness nicely supported by her hidden, crafted backstory. Her brutal honesty is refreshing and funny, rallying the audience to have a vested interest in the character's outcome.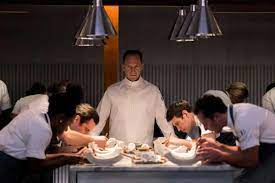 Veteran actor Ralph Fiennes has incredible range, showing an uncanny ability to play just about any role put in front of him. Here he molds his chef character in the shape of a cult leader, reminiscent of his portrayal of Voldemort from the Harry Potter films, inserting subtle, well timed and delivered humor, similar to his memorable role in "In Bruges." Fiennes' commanding presence and dry wit keeps the audience riveted on his every word, leading to guiltily complex feelings about this antagonist.
The supporting cast represents those extra ingredients that bring out the flavor in a meal. Nicholas Hoult, Hong Chau, Janet McTeer, John Leguizamo, and Paul Adelstein all contribute well-rounded performances that enhance the flavor of this movie.
"The Menu" is delightfully, morbidly entertaining with a wicked sense of humor presented in a way that is refreshingly unique and will have audiences returning for seconds. In the midst of Oscar contenders and box office blockbusters, this is a film experience worthy of attention.
This movie earns: