By Keith Walther | Rose Law Group Reporter
Of the multitudes of vampire films made over the years, "Renfield" fails to stand out in any meaningful way. This is a horror movie that doubles as a comedy, and it does elicit some laughter throughout, but the story is paper thin with no payoff. Buoyed by stellar acting from the entire cast, "Renfield" is more entertaining than it has any right to be.
Based on the legendary characters from Bram Stoker's novel, "Dracula," R.M. Renfield (Nicholas Hoult) has been Count Dracula's (Nicolas Cage) servant, aka familiar, over the years. During this time, Renfield has taken care of his demonic boss's needs, including bringing him a constant stream of human meals to quench his insatiable thirst and keeping him safe during the day from the occasional vampire hunter. The job does have its perks, including immortality and a fraction of Dracula's power when he ingests bugs. Protecting his master requires them to move from time to time to begin the reign of terror anew, and this time they're in New Orleans.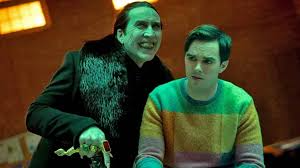 Leading lambs to the slaughter have been weighing heavily on Renfield's conscience. He yearns to break away from this toxic co-dependent relationship and live his own life. When he meets Officer Rebecca (Awkwafina), he begins having romantic feelings, bolstering his courage to stand up to his tyrannical boss. Dracula does not take too kindly to this insubordination, and he immediately goes on a rampage to destroy any hope Renfield has of a normal life, employing the help of the local crime family along the way.
Best known for "The Lego Batman Movie," director Chris McKay tries to ride the fine line between horror and comedy, ending up with a film that excels in neither. Once the amusement of the title character going through a self-help awakening wears off, the audience is left with silly, over the top, violent carnage. McKay uses copious amounts of gore to distract the audience from the meaningless plot. There is a scene, however, of a bad guy's severed arms hilariously being used as nunchuks.
The hasty incorporation of an entire police force on the take and a seemingly unlimited supply of criminals is completely unconvincing and is simply an obvious ploy to increase the mayhem and body count. McKay also gives a half-hearted attempt to create backstories and suspenseful moments that fall flat, and he only seems to use vampire lore when it's convenient, creating lazy inconsistencies. Fortunately, "Renfield" is saved by the efforts of the capable cast.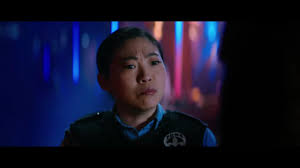 Nicholas Hoult, who had a terrific supporting role in last year's "The Menu," has the starring role in "Renfield," and he doesn't shy away from the limelight. He gives an entertaining performance, presenting his character as meek and subservient in the presence of his undead master while displaying his inner turmoil and guilt over past actions. If anything, this film proves that Hoult has the chops to headline a cast.
Playing the part of Dracula has always been a career goal for veteran actor Nicolas Cage, and he finally gets his opportunity in "Renfield." Cage doesn't disappoint, giving his flamboyantly narcissistic interpretation of the character that has been represented in film more than 200 times. He's at his best when he employs sarcastic wit to generate funny moments. In fact, there's a scene when he pops in for a surprise visit at Renfield's apartment to confront his servant's duplicity that becomes one of the best scenes in the film.
The rest of the supporting cast shined in their own right. Nora Lum, aka Awkwafina, brings her unique brand of comedic talents to the film, playing the only incorruptible cop, hilariously using her awkwardness in an unfamiliar type of role to deliver some funny unscripted moments. Brandon Scott Jones also provides a notable standout performance as the support group leader for people trapped in a co-dependent relationship. Also worth mentioning for those vampire movie junkies, William Ragsdale, who starred in the 1985 classic "Fright Night" as Charley Brewster, has a cameo in this movie.
Before the film devolves into a comic book style blood bath, "Renfield" has moments of quirky comedy that should have been movie's focus. There's nothing unique about the story, but the acting makes up for it, delivering some satisfying entertainment. It doesn't get a recommendation for a theater ticket, but it is enjoyable enough for a home rental.
This movie earns: